Now Get Rewarded With 750 Bonus JP Miles. If you enjoy sharing your card benefits, your joy will be multiplied now!
You just need to make sure that the holder of your American Express supplementary card also uses it to their fullest in order to get rewarded with some fantastic deals and special offers for themselves and you!
To begin with, you can now earn 750 Bonus JP Miles each month if your American Express supplementary card is used!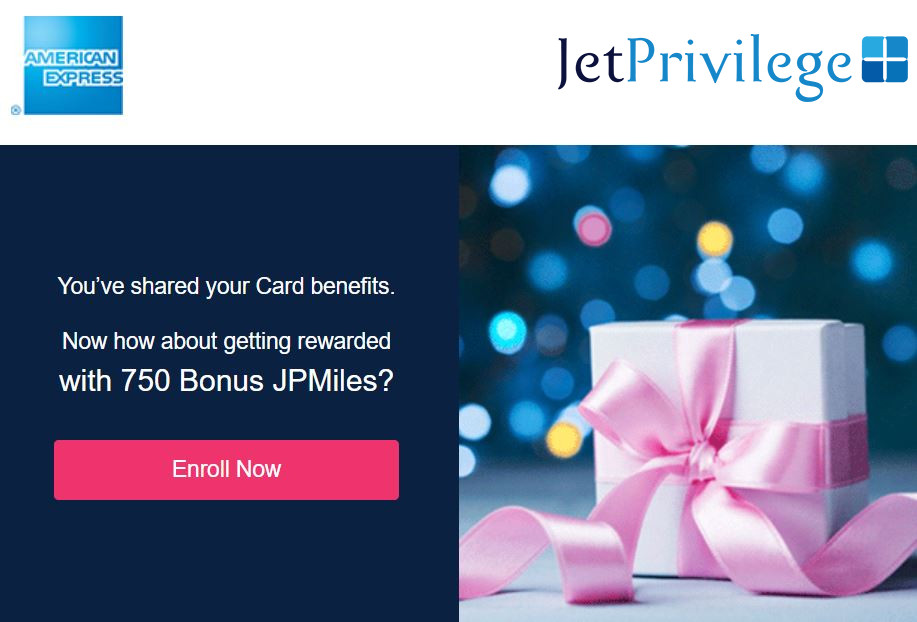 The steps are relatively simple:
Get your American Express Card enrolled for the offer
Make a minimum transaction of 1000 INR at least twice a month with your Supplementary Card
Easily Get JP Miles of 750 as a bonus
More miles on your mind? Get it now by Shopping Online
Moreover, you can earn your next vacation by buying groceries. Yes, it is not a joke. You can buy grocery on big basket and earn JP Miles that can actually sponsor your next annual vacation. Do you have enough reasons to use your card to buy groceries now? Now, get rewarded for using your card!
Hurry up and enroll your American Express Card now! The validity of the offer is from May 1, 2018, to July 31, 2018.
So, start earning your Bonus JP Miles just by making a few transactions with your Supplementary Card!
Do you want to start travel hacking?, Get your Jet Airways American Express Platinum Credit Card, you will get 10,000 Bonus JPMiles + one-way complimentary Jet Airways Base Fare Waived Domestic Ticket + 2,000 Referral Bonus JPMiles