How to Travel the World for Free
You must be thinking that I am crazy. Travelling the world for free seems bizarre but it is not something new to the hardcore travelers across the world.
They have been travel hacking since ages. Their little secret is out and you too can become a true adventurer now.
What is Travel Hacking?
The term hacking, in general, is associated with illegal activity. But don't be afraid of travel hacking.
Travel hacking is within the rules of airlines and hotels, and travel credit cards are used to earn rewards, such as miles and points or
"It is an art of collecting as many airline and hotel points as possible in order to travel or stay for FREE"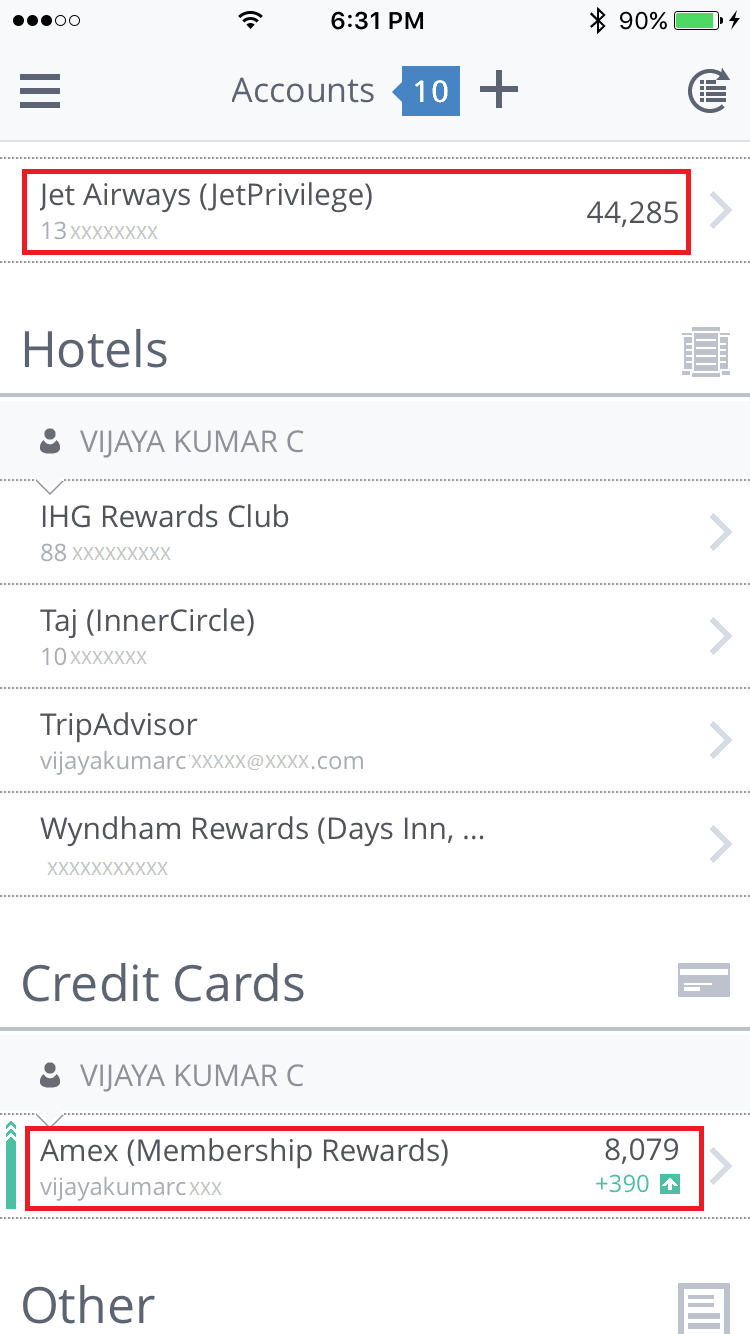 I started travel hacking in 2011 and since then, I have traveled to Australia, Singapore, Malaysia, UAE, Russia, Belgium, Italy, Spain, France, Sweden, Finland, Estonia, and many more cities in India, for almost FREE.
While I was writing this article, I earned 50,000 JPMiles, based on my last 3 months that I spent with the Jet Airways American Express Credit Card, which gets me FREE return economy ticket from Bengaluru to Singapore, or a couple return business tickets from Bengaluru to Colombo, or return business class ticket from Bengaluru to New Delhi, or 10 economy tickets from Bengaluru to Chennai/Hyderabad.
Isn't it awesome!?! Yes, indeed.
Here are a few tips for you to get started to the world of travel hacking:
Get Travel Credit Cards and Earn Rewards
Yes! You heard it right! That piece of plastic in your wallet can be a blessing, depending on how you use it. Credit cards are a lifeline to travel hacking.
They are the starting point and the fastest way to earn miles or points.
There are generally two types of travel rewards credit cards:
Brand specific airline credit cards are the ones that will be automatically redeemed as brand specific miles or points only.

The general purpose of these travel credit cards is that you will have the flexibility to redeem the points to air miles or hotel points, or you can use them for other purposes like paying your credit card's annual charges, redeeming from their catalogues etc.

Most of these travel credit cards will provide you with the joining bonus miles or points, where you can instantly earn multiple free flights, just for getting approved for a card.
Choosing the right travel credit card with flexible redemption options helps you add more destinations to your travel dairies.
For example:
"Jet Airways American Express Platinum Credit Card will provide welcome gift of 10,000 Bonus JPMiles and one-way complimentary Jet Airways Base Fare Waived Domestic Ticket on your first charge"
"Citi PremierMiles Credit Card provides 10,000 Miles with your first spend of Rs.1,000 or more within 60 days of Card issuance"
Pay attention to Travel Credit Card rewards program
To get the bonus rewards, you will have to spend the target amount of money within a fixed period of time.
For instance:
"JetPrivilege HDFC Bank World Credit Card will provide 1 Tier Point in your JetPrivilege Frequent Flier Membership on every Rs. 2,00,000/- spent (retail) from your card.
Or get your Renewal Fee waived if you spend Rs. 3 lac in 12 months prior to renewal."
Make the most of your Travel Credit Card
There is no magic wand to earn more miles or points. Just put all of your everyday purchases on your travel credit cards to maximize your rewards..
Use cash only when you absolutely have to! And that's how you'll earn your way toward a free trip in no time.
FREE Bonus Miles
Never go directly to your favorite retailer's website if you can earn rewards through airline portals. Every airline has an online shopping portal that allows you to earn, on average, three to four miles per 100 rupees spent.
You just need to sign using your frequent flyer number and examine the airline's links to the merchant. Within 60 days, at no additional, you will get FREE bonus miles.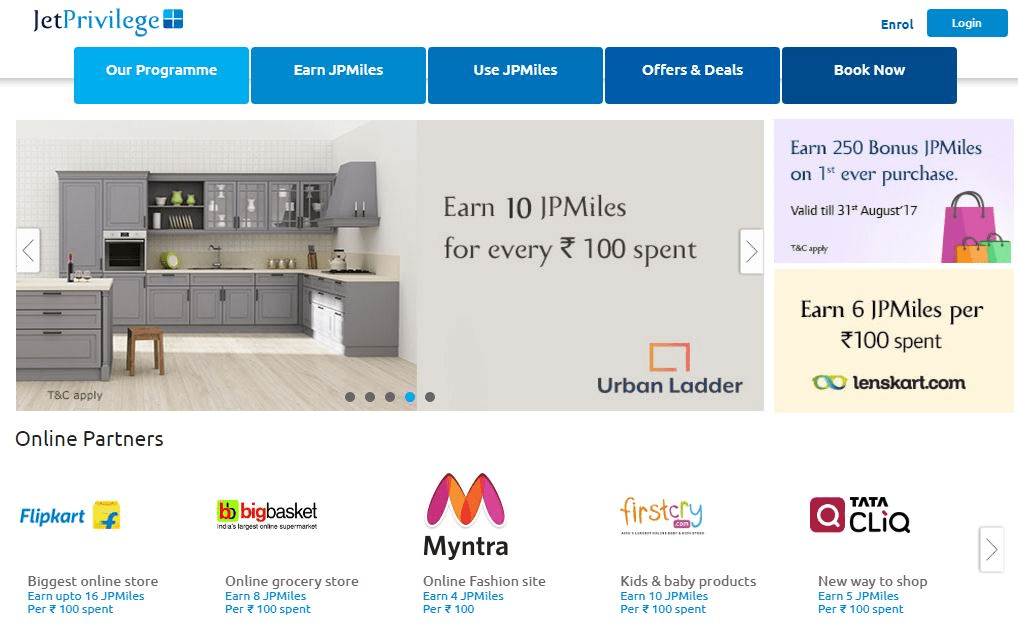 Transfer Points to Partner Programme Intelligently
Sometimes Frequent Flyer Miles Programme offers you tremendous deals if you are converting points from credit card/hotel loyalty program into miles.
Recently I got 20% extra bonus miles for converting my 5000 points of Indusind Platinum credit card. Thus I got 1000 JPMiles absolutely FREE!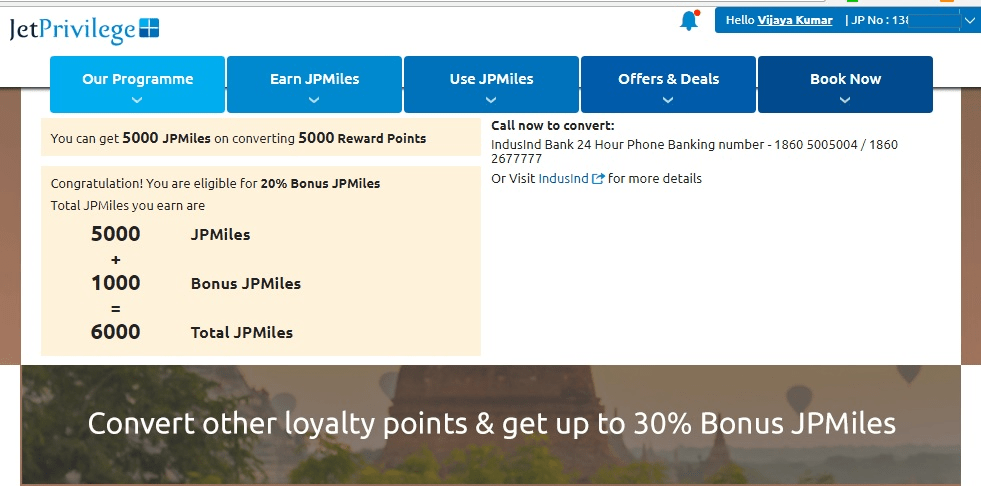 Nothing is free in this world, you must pay for everything in this world, one way or another, but not in travel hacking!
So, what are the things you need to keep in mind while getting your travel credit card?
While signing up for the best travel credit card, you will have to pay the joining fees and annual fees, but the positive aspect is that these travel credit cards usually give a better rewards' scheme, where you can accumulate points faster, get better access to services and special offers when compared to non-annual fee based travel credit cards.
I tend to save more bucks for travel now than I actually spend on annual fees with these travel credit cards.
The annual fee gets payed off itself many a times. The above context is specifically true with cards that are granted with a generous sign-up bonus. For instance,
"A welcome gift of 5,000 Milestone Bonus Membership Rewards Points is provided by the American Express Platinum Travel Credit Card that is redeemable for Travel Vouchers worth Rs.4000"
Sign up for Frequent Flyer Miles Programme
"You're losing out free flights and benefits if you're not using the power of frequent flyer miles"
It's free to sign up for frequent flyer miles programme. If you plan to accrue miles or points in any program, you are required to be a member. Here are the most popular ones in India.
Flying Returns by Air India: Flying Returns is India's first frequent flyer programme. As a member, you can earn FR points when you fly with Air India, can even earn and redeem FR points on 27 Star Airline partners, and earn FR points on selected non-airline partners.
JetPrivilege by Jet Airways: JetPrivilege an internationally acclaimed award winning loyalty and rewards programme and the most successful in India with a good network of collaborations with hotels, credit cards, restaurants, and other travel partners, helps you earn JPMiles not only when you fly with Jet Airways or Etihad Airways, but also when you fly across any of their 25+ airline partners. JetPrivilege has partnered with some of the finest hotel chains, both in India and international destinations. Writing hotel reviews will also help you earn JPMiles points or using one of their online booking partners, when you book your stay.
Club Vistara from Air Vistara: The all new Vistara is the latest entrant when it comes to rewarding. It is a frequent flyer programme having handful of partner airlines and non-airline partners.
When you fly in a new airline, make sure to sign up for their programme at that time to earn reward points or miles. Never take a flight without earning some type of points or miles.
You can check the website of that particular airline before booking and look for any promotions that can help you earn bonus miles/points.
Become a regular customer of that particular airline. It might not be possible always due to availability or cost, but try your level best and be a regular customer. Over a period of time, you'll end up with many frequent flyer miles or points.
Sign up for Loyalty Programs like Payback and others
Though the conversion rate from Payback points to miles is very less, but we must leave no stone unturned.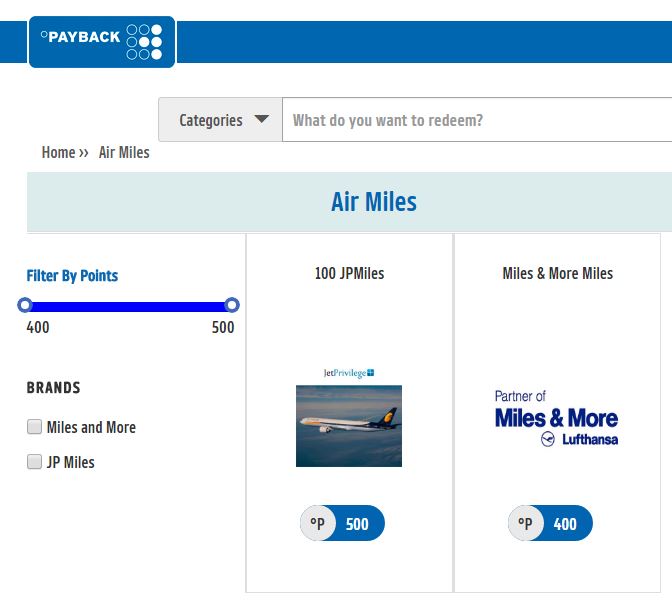 PAYBACK is India's largest multi-brand loyalty program offering an exciting bouquet of advantages.
You can earn payback points with a single membership and redeem them at a diverse range of in-store and online partners, including travel, fuel, groceries, entertainment, apparel and more.
Members can store these points and utilise them for redeeming airmiles.
You get 100 JPMiles for every 500 Payback points presently.
Sign up for Newsletters
Airline newsletters will contain promotion and mileage deals that will help you grab those opportunities faster to upgrade your point balance.
The Other Side of a Coin!
It's not only about earning points or miles using smart ways, but spending more responsibly also
Make a goal and chase it!
Do you wish to take your family to their dream destination? Do you wish to utilise your miles to upgrade to business class or first class?
If you have a goal, it will help you in staying focused regarding the miles and points, and help you transform your strategy regarding opening travel rewards credit cards and earning miles.
Be Flexible in your Plans
"Flexibility is the key when trying to maximize airline and hotel rewards"
It helps you to save money and earn extra points if you are flexible about travel dates or instead of direct flights, choose stopover airport in between the trip or changing local or destination airport to nearby airport.
Stay up to date
Stay up to date with the deals or airline anniversary offers/promotions or festive season blockbusters. This will help you spend less for travel.
Air miles or hotel loyalty points may seem like the only rewards, but think again!
Some reward programs (such as American Express), in addition to miles, provide an access to restaurants, airport lounges, visa services and hotel concierges.
Keep these tips in your mind.
Why do you need to spend your hard earned money for travels if you have this splendid option to get it for free with miles?
It's worth noting that when reward points are used for miles for free flights, you may still be responsible for paying taxes and fees. However this cost is minimal.
So think twice before you spend. If you are not earning any rewards miles or points for it then you are missing a free travel
Do you want to start travel hacking?, Get your Jet Airways American Express Platinum Credit Card, you will get 10,000 Bonus JPMiles + one-way complimentary Jet Airways Base Fare Waived Domestic Ticket + 2,000 Referral Bonus JPMiles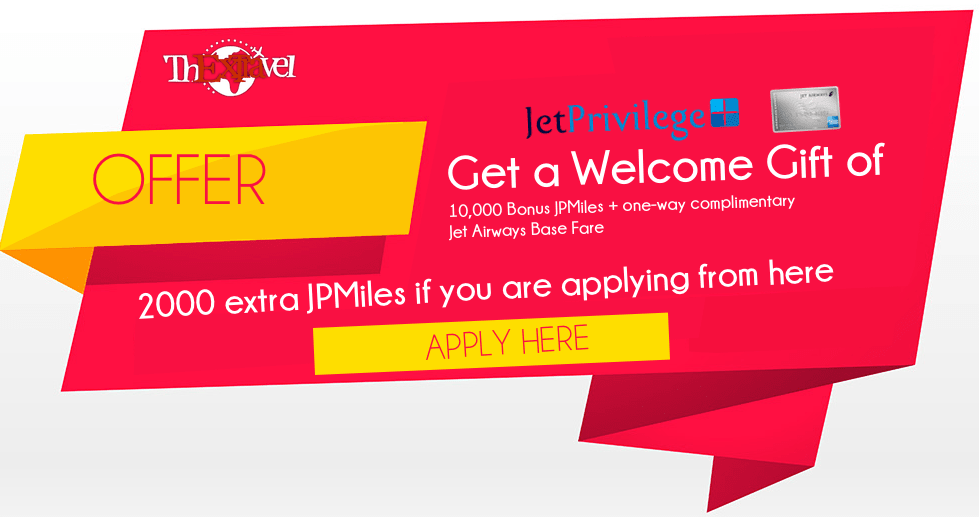 Are you a travel hacker too? Please share if you have any other ideas for travel hacking in India