There are hundreds of shopping websites you browse routinely. You might have found similar items with different prices and points they offer. If you bought a shirt of 100 bucks but found it later of 80 offering more points, you end up feeling regretful. We will be saving you from such adverse regrets. With the introduction of PAYBACK deals assistant chrome extension, you can compare several online shopping portals and earn bonus PAYBACK points.
Saving money isn't a difficult task, rather a well planned design. PAYBACK deals assistant chrome extension will do the toughest yet the most prominent task, compare the rates on over 30 online shopping websites, delivering you the best prices in seconds. You will never be overpaying for any item you purchase anymore.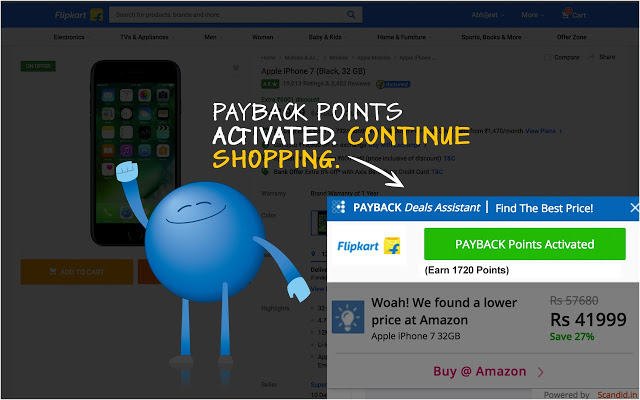 Key features
PAYBACK deals assistant will do its comparisons automatically, no manual efforts are required.
You will earn PAYBACK points. Click Activate points button to get ensured points for every single transaction you make.
PAYBACK points
The collected points can be redeemed in shopping. 1000 PAYBACK points are equivalent to INR 250. Save your money smartly while shopping. Never miss any chance of earning rewards and points.
Partners
You can compare prices on 30+ websites like – Myntra, Flipkart, Snapdeal, Ajio, Jabong, Paytm, Shopclues, Tata Cliq etc. Visit the link to know more
PAYBACK points are very useful and I have been saving plenty of my bucks after redeeming my collected points. PAYBACK brings the best offers, like it brought the offer of 30% bonus JPMiles.
The offer is not valid now but it truly explains the creativity and diverse offers PAYBACK introduces. Comparing and buying the best deal is how modern shopping is done. Never overpay for anything. Become a smart buyer.
Read more about latest offers and deals on our website. From reward points to redemption, you will find every detail here. Happy shopping to you all!