HDFC Bank Diners Club Black Credit Card is one of the best credit cards in India considering its benefits, features, rewards and redemption value plus their on-going promotions.
No other credit card beats its 33% reward redemption value with its ongoing HDFC 10x rewards program i.e. In simple terms, you get ₹33 back for every ₹100 spent on this credit card.
Lowest interest rate, foreign currency mark-up charges and joining fees make this credit card one of the top choice credit card in India.
Benefits and Features
HDFC Diners Black credit card is loaded with unparallel benefits and features from travel to lifestyle,  protection to best in industry reward and redemption.
Travel
10x reward points with Yatra & Cleartrip via SmartBuy and Uber, Red Bus, SOTC, Treebo through partner program.
5x reward points with MakeMyTrip, Goibibo, Red Bus through partner program
Comes with unlimited lounges access across worldwide for primary card holder only
A great view at S7 #Business #Lounge @Airport_DME #avgeek #travel #Moscow #Russia @HDFC_Bank @DinersClub #creditcard pic.twitter.com/VodKSf8xd5
— ThExTravel ✈ (@ThExTravelBlog) November 8, 2017
Reward Points can be converted to AirMiles or hotel reward points at 1:1 ratio:
British Airways Executive Club (Avios)
Jet Airways (JPMiles)
Singapore Airlines (KrisFlyer Miles)
Club Vistara (CV Miles)
Trident Hotel
Lowest Foreign Currency Markup of 2% (Can be reduced to 1% with Global Value Program i.e. 1% cash back on all International transactions)
Global Value Program other benefits:
500 welcome bonus reward points on 1st International transaction
₹2000/- worth Yatra voucher as milestone bonus once you accumulate International spends of ₹1,50,000/- in an year
Fuel Surcharge Waiver capped at 1000 every billing cycle but GST applicable
Lifestyle
10x Reward Points with Flipkart, Amazon via SmartBut and Zomato, Tata CLiQ, BigBasket, BookMyShow through partner program.
5x reward points with Kalyan Jewellers, Snapdeal, Big Basket through partner program
Golf Privileges: 6 complimentary golf games (Green fee waiver) per quarter across 20 golf courses in India and over 40 golf courses worldwide
Concierge Services 24/7:
On-line airline and hotel reservation
Golf Course Referral and Reservation
Dining Referral and Reservation
Flower and Gift Delivery
Car Rental and Limousine
Business Services
Courier Service Assistance
15% discount on selected finest restaurants across India.
Protection
Air Accident cover of ₹2 Crore
Emergency Medical Expenses cover of up to ₹ 50 Lakh
Credit Liability cover of up to ₹ 9 Lakh
Travel Insurance cover of up to ₹ 55,000 on baggage delay
Joining and Annual Fees
₹10,000/- + GST joining fees
₹5000/- + GST is the annual fees, it will be waived of if the spend is ₹5 Lakh in a year
This is not LTF (Life Time Free) credit card but usually 1st year fees waived off if you have good relationship with HDFC Bank.
For renewal fees if you spend ₹5 lakhs in 12 months then your annual fee is waived off!
Joining and Annual Bonus
1st year: 10,000 reward points
2nd year onwards/renewal: 5000 reward points
Both joining, and renewal bonus applies only if you pay joining and renewal fees.
Not applicable if you get 1st year fees or renewal fees waived off or have LTF credit card.
Reward and Redemption
You can earn 5 reward points per ₹150 spent i.e. 3.3% saving.
Each 1 reward point is equal to ₹1 when you redeem in their website.
No other best credit card in India comes closer to HDFC Diners Black credit card when it comes to earning reward points through various ongoing 10x rewards promotions and offers i.e. 33% saving
You could able earn up to 70,000 points.
10x Reward Partner Program: 25000 Points per statement cycle
10x HDFC SmartBuy: 25000 Points per calendar month
5x Reward Partner Program: 15000 per calendar month
10x Rewards Points on loading/reloading Forex card: 5000 reward points per card per month for Credit card offer.
For example:
If you spend ₹10,000 in retail, then you get reward points value worth ₹ 330. Similarly, with 10X reward partner, SmartBuy or International POS spend then you get ₹3300 value reward points.
Redemption
Each reward point valued ₹1 when you redeem for flights or hotels in HDFC Diners Club website: https://www.hdfcbankdinersclub.in/ or transfer to any of the above airline miles in 1:1 ratio.
You also have plethora of products to redeem either online or exclusive catalogue via customer service but usually these kinds of redemption is less value for money compare to flights or hotel booking.
For example, applie iPhone X 64 GB needs 190780 points for redemption. In that case, the value of each reward point goes down to ₹0.40. (Keeping existing iphone X markey value of ₹75,000/-)
So, it always best to redeem for travel rather than products.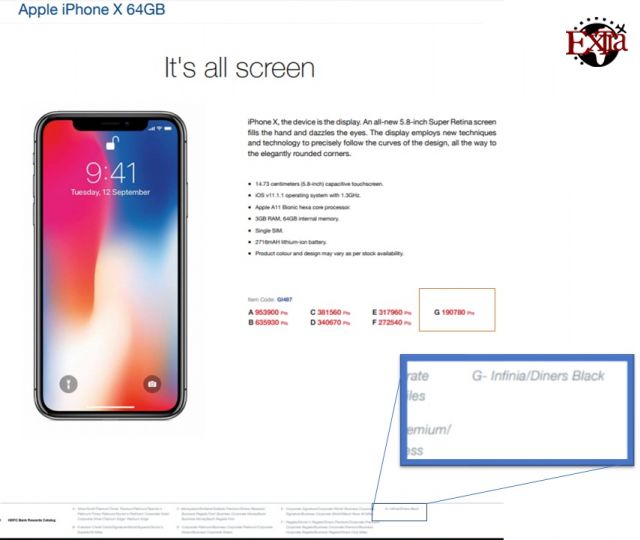 Downside
Limited acceptability for POS transactions in both domestic and international while it is good acceptability for online transactions. Compared to Diners cards, MasterCard/Visa cards are always best.
(Since Diners Club tied up with HDFC Bank, I personally saw acceptability has been increased over last couple of years and way better than American Express credit card)
10X reward points promotion is heart and soul of HDFC Bank Diners Club Black Credit Card. Once it is expired then no more tag for best credit card in India. So, be cautious and keep an eye.
(As per my understanding, 10x reward points promotion will run in another year or so keeping their renewal of the program from last couple of years)
(Since it comes with unlimited worldwide lounge access, it is lot better than any other top-notch credit cards in India and keeping back up MasterCard or Visa credit card would solve above said downside)
Only Primary holder is eligible for lounge access unlike other few premium credit cards even allows supplementary card holders too.
HDFC is not transparent or doesn't have good process when it comes crediting the promotion reward points, sometimes you may need to track manually each transaction you did since crediting of bonus points through various promotion will take up to 90 days.
Sometime 10x rewards points doesn't work with EMI option, always reach out customer care before availing any EMI offer.
Reward Points will not be accrued on fuel transactions.
Adding money to your wallet doesn't benefit you with HDFC Diners card.
Keep in Mind
To earn reward points, the minimum transaction value should be ₹150/- or above
All the insurance covers are available for primary card holder only.
Air Accident cover applies only if you booked air ticket with this card.
Travel insurance applicable only for international travel (restricted to 30 Days) and will not able to use for visa purpose.
Eligibility
Since this is the ultra-premium credit card, the eligibility criteria for income is high i.e. for salaried, net monthly Income should be more than ₹1.75 Lakhs per month and for self-employed, ITR should be more than 21 Lakhs per annum.
It is believed, HDFC follow stringent eligibility criteria for this credit card and doesn't approve if eligibility criteria don't match.
Other eligibility criteria include age as follows:
For Salaried: 21 to 60 Years
For Self Employed: 21 to 65 Years
Upgrading from other HFDC Credit Card
I have heard from few of the users that they have been upgraded to HDFC Bank Diners Club Black Credit Card from existing HDFC Bank Diners Club Miles/ Premium Credit Card or other HDFC Bank Credit Card based on their good relationship with HDFC bank like salary saving account or Preferred/Imperia customer or higher FD or working in top MNC company or repayment history and good CIBIL score.
Upgrade or convert from other HDFC premium credit cards like Regalia is also one of the way to get it.
Don't hesitate to reach your HDFC RM (Relationship Manager) or BM (Branch Manager), he/she may be helpful.
or
You can also send upgrade request form to HDFC Chennai office
Conclusion
If you are looking for one of the best credit card in India, especially for travelling then this is the must have in your credit card arsenal.
With its most generous rewards program compared to other best premium credit card in India and whooping 33% saving with its 10x reward program, no other credit card comes to close.
Though Diners acceptance is less than MasterCard/Visa credit card in both domestic & international, It is always recommended to have one extra MasterCard/Visa credit card as backup like HDFC Infinia Card or Yes First Exclusive Card or Citi Prestige or any other super premium credit card in India.
What do you think about this credit card? does it worth holding in your pocket? do share or comment!