To all the travel enthusiasts who are passionate about traveling to new places, lets unlock the guide on how to travel anywhere in the world for free or less!
Who doesn't like experiencing the luxury of flying in first class or business class, staying in star hotels, traveling to your dream destinations? It's everyone's dream!
If you are curious to know "How"? The answer is, "Travel Hacking"
I know that traveling is an expensive affair and it is not affordable to everyone.
My aim is here to show you on how to enjoy this luxury almost for free & make it affordable for every travel lover!
Travel Hacking in India
Travel Hacking is an art of utilizing airline or hotel loyalty programs to collect points, which you can later redeem to travel or stay for free. You only need to pay convenience charges and taxes; everything else is free!
It all starts with signing up with frequent flyer and loyalty programs with the airlines and hotels to earn credits.
Never take a flight or stay in a hotel without making miles or points.
Travel Hacking in India has becoming popular in the last few years.
Few airlines have turned out to be exceptionally aggressive. They offer high rewards on the premium credit cards as signup bonuses. With this, travel hacking is getting easier.
Now, you don't need to wait anymore for the off-season or festive time to get discounts. You don't need to spend your money for booking flight tickets.
All you need is enough miles to fly and good amount of points to redeem for hotels.
Let me explain in detail how travelers from India can get free flights and hotels:
Though our Indian market is not as generous as other countries, we do have some good options like frequent flyer programs, co-branded credit cards, airline shopping portals, hotel reward programs
etc.,
The advantage of travel hacking in India is that you can see a lot more of the world for a lot less.
Before I provide you with the step by step guide on how to get started with travel hacking, You should set your travel goal. Not everyone will have a same travel goal.
It could be anything like having a dream of traveling to a new country in 6 months, or dream of traveling in first class in the world's best airlines in next 1 year or family vacation to beach destination on free flights in next 6 months etc.,
Being specific with the goal is the important step in earning miles and points as it keeps your motivation high and aids to accomplish your dreams soon.
My dream is traveling in first class in world's best airlines and here it is!!
I had redeemed my first class ticket with Etihad Airways in just ~₹16K which is worth more than ₹5 Lakhs by redeeming 105000 JPMiles (Etihad Airways is an airline partner of Jet Airways)
The miles I earned in 1 year (which is more than a lakh JPMiles) could buy me this award flight.
I turned my dream into reality because I was clear with my goal and It was easy to figure out which miles and points are needed to get there.
I will show you in later chapters on how to quickly earn your miles and utilize in a smart way!
So far, I have redeemed miles worth more than ₹10 lakhs in the last 3 years with travel hacking.
(*This amount of 10 lakhs is approximated based on the JPMiles redeemed on First class ticket and other domestic/international flight tickets)
If you are new to travel hacking, my suggestion is to start small and with a simple travel goal in mind.
Frequent Flyer Programs in India
I have traveled extensively in the past few years with various airlines and will share with you on how the reward programs works, how to earn miles by signing up with their program and use them for award flights.
I undertook more than 100 flights both in India and abroad in different classes, experienced their services and could able to learn a lot!
A frequent flyer program is a loyalty program by the airlines to encourage their customers for accumulating points.
Free flights redeemed by using the air miles are called Award Flights. This is usually excluding taxes. The advantage of enrolling to their program is like flying without buying!
Here you will learn on how to utilize these frequent flyer programs to the best and provide you an idea without spending time on research.
Few airlines in India have a loyalty program where you earn points as you travel.
You can redeem these miles to upgrade the travel class or purchase flight tickets.
In India, we have JetPrivilege by Jet Airways, Flying Returns by Air India, Club Vistara by Air Vistara which are well known.
SpiceClub by SpiceJet is recent addition.
JetPrivilege by Jet Airways
JetPrivilege is the vastest frequent flyer programme in India with 150 brand partners.
Miles earned in this program are called as JPMiles.
It is introduced by Jet Airways that allows its loyal customers to enjoy deals and promotions with the miles earned.
It has many airline and non-airline partners for earning miles and redeeming them and have excellent coverage across India and non-stop flights to London, Paris, Singapore, Middle East etc.
JetPrivilege partner airlines of more than 20 where you can earn and redeem miles.
Having a Jet privilege membership is like already holding free flight tickets.
The benefits are huge like saving from peak prices in last minute flight bookings, privilege in airport check-in where you can skip the long queue etc.,
Enrolling to their program is so simple by a 3-step process from Jet privilege website.
Add
Basic profile details
Mailing address and
Verification process and your registration is complete.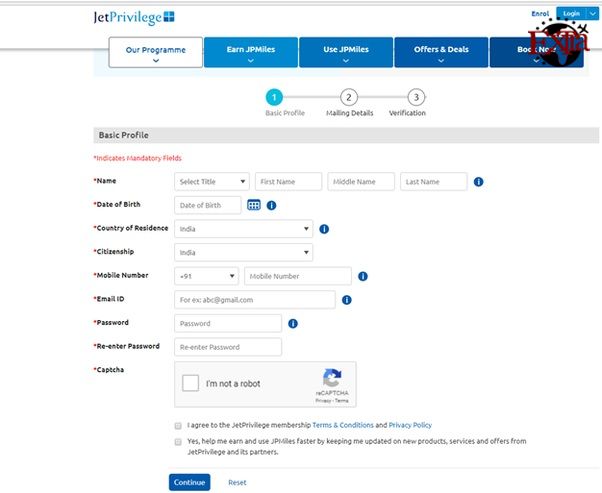 You can track all your activities like pending activities, completed activities and miles earned through each of those activities. I will share in later chapters on which activities from Jet Privilege website can earn you more miles quickly.
Since JetPrivilege is well covered in almost entire country, it's easy to get your flights to favorite destinations.
Using Family+ option and pooling all the miles together of the parents, spouse and children is possible with Jet Privilege. It's a good option as their miles will get added to get free flights and each mile counts!
JetPrivilege has 5 tier system i.e. Blue, Blue Plus, Silver, Gold and Platinum. Each has its own advantage, every tier you move up, the better the privilege you get.
Air India is one of the most extensive flight service provider with tremendous domestic presence in all the major as well as small cities and non-stop flights to different countries across the globe.
Points earned through this program as called FR Points.
It offers bonus points on higher fare tickets like full fare economy, on business class, on first class. It's the fastest way to pile up your FR Points.
Privileges like separate check-in counters at selected airports helps in avoiding long queues during last minute.
It is a part of the Star Alliance which has a partnership with 27 member airlines.
You can earn and redeem when you travel on any Star Alliance members. It provides the facility to purchase or transfer miles.
Though registration to their frequent flyer program is a simple process, make sure the details mentioned in the form and flight reservation should match exactly with the passport/Government ID to get the benefits.
It offers a higher baggage allowance and award flights can be availed even during last minute booking.
Flying Returns has 3 tier system i.e. Silver, Gold and Maharaja club.
Club Vistara by Vistara
Vistara – Known as the fastest rewarding frequent flyer program is the new in India. Since the Tata Group and Singapore Airlines jointly possess it, it has Silk Airlines & Singapore Airlines as its partners. Points can be earned and redeemed by traveling on any of these carriers
Enrolling for Club Vistara is also rewarding! You can earn 500 CV Points when you enroll as a member and upon completing your first flight!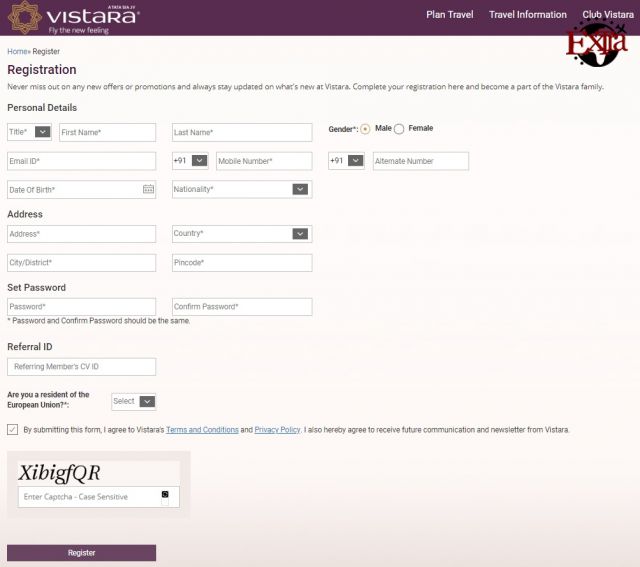 Club Vistara referral system is rewarding too. Are you adding more members into Vistara club? You are rewarded upto 1000 CV points!!
With Vistara, the best part of the journey is the journey itself with its great flying experience.
As customers are its top priority, their feedback in terms of preferences, suggestions is much valued.
Earning points with Vistara is by flying and every flight takes you one step closer for better rewards.
They have 4 Tier system like CV Base, CV Silver, CV Gold and CV Platinum and as you earn tier points, it's upgraded for better deals and services.
Every flight you take with Vistara not only adds your CV points, but also earns Tier points.
With CV program, you get exclusive privileges like priority boarding , free lounge access, priority  baggage handling etc.,
Credit Cards in India
In India, more than half of the credit card spends are incurred on travel and airfare.
Travel credit cards are extremely beneficial if you know how to play right with them!
We do have a lot of good credit cards which offers a big sign up bonuses on meeting the minimum spend requirements in specified period.
Sign up bonus system has improved massively in the last few years with American Express, HDFC, IndusInd, SBI, Axis Bank etc.
Airline companies are desperate to keep their logo on top in your wallet.
For Instance, Jet Airways American Express Platinum Credit card upon enrolling and post first transaction, they credit your account with 10,000 JPMiles as a welcome gift within 60 days of first transaction.
Similarly, other cards offer sign up bonuses upon transacting a specified limit/during specified time.
These credit cards are best way to jump start with miles balance.
Using the right credit card is the fastest way to earn points or miles.
By redeeming these miles, you can get an award flights to your dream destination.
Miles/Points can be redeemed only on the base fare.
(Surcharge, Development fees, taxes are to be borne by the customer.)
Before I start off with the credit cards and their advantages, let's break the myth about holding a credit card.
Some of my friends fear for applying a credit card due to its overspending ability.
They miss the amazing deals and miles which the credit card offers.
Being a travel hacker, my wallet is filled with most of the co-branded credit cards and travel credit cards which helps in multiplying my miles!
You will know in later chapters on how your daily spending's can get you an annual vacation! Who would spend for a flight ticket if you can get it for almost free?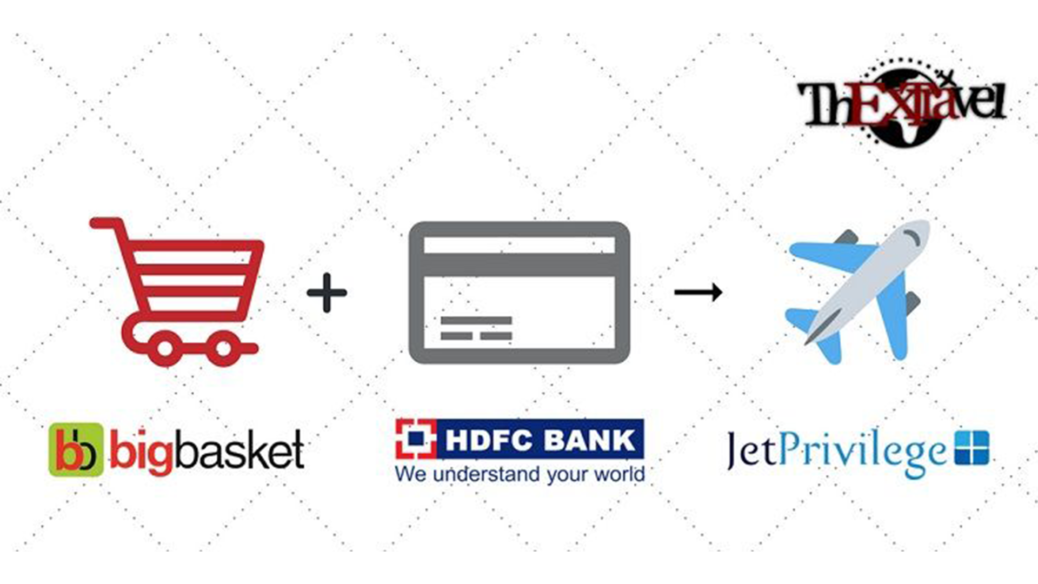 The more you are deep into it, the better rewards you will receive.
I have already received my rewards by redeeming miles for an Award flight in first class! What rewards you would like to receive? But if you are new to this, don't jump into the deep end right away! Simple rule with any credit card is being organized and not to spend more than you earn.
Avoiding debt is also the key as you will end up paying interest and the miles you earn will not worth if you are incurring cost in earning them.
People usually prefer choosing a life time free cards/no fee cards, but they don't fetch enough miles to earn you free flights.
The secret lies with the credit cards which has annual fee as they offer huge sign up bonuses and also miles earned per rupee spent is greater than no fee credit cards.
If you are already holding a lifetime free credit card, then don't cancel them. It helps in your credit score as the length of the credit history is a also a factor!
In credit cards, we have general purpose travel credit cards and co-branded credit cards.
Co-branded cards are usually sponsored by
Bank/Card network
Retailer like airlines
Co-branded credit cards offer privileges like Bonus points/miles around 10,000 -30,000, dedicated check-in counters, free lounge access, joining discount vouchers, baggage privileges and sometimes one way complimentary flight tickets.
Jet Airways American Express Credit Cards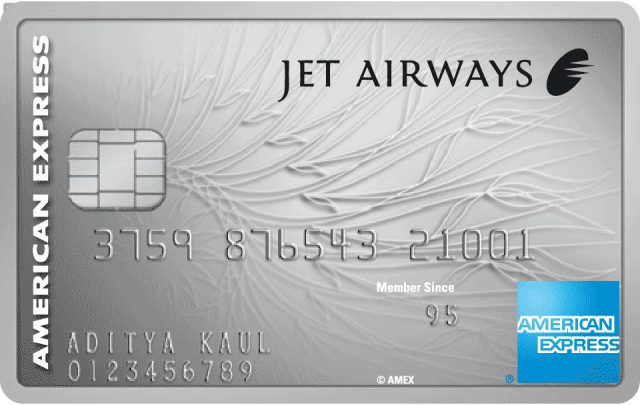 In India, American Express credit cards are not widely accepted everywhere like Visa card or Master card.
They have 15% of the POS market share and about 4,55,000 point of sale terminals well spread across 15 top cities in India. But if it can cover 70-80% of your spending needs, it's a wise option to choose it due to its huge benefits it offer the customers.
Jet Airways American Express Platinum Credit card is the always on top in my wallet due to the privileges it offers like JPMiles, lounge access, dining benefits etc.
I have earned more than 70K JPMiles in the last 1 year by redirecting all my spending through this credit card.
They have the best reward program which can earn 8 JPMiles per INR 150/- spent and 16 JPMiles for every INR 150/- on Jet Airways website.
Applying for this credit card is easy as the eligibility criteria of annual salary is ≥.₹ 6 Lakhs per annum.
It has joining fees and annual renewal fees which is slightly higher. But the benefits we receive on earning the miles are worth!
They also have a friendly customer support and fraud protection policy for any misuse of the credit card.
If someone can spend INR 25,000 every month using American Express Jet airways credit card for paying utility bills, buying groceries, shopping etc.(annual spend sums upto 3 Lakhs), after 12 months you will have enough miles for 6 free flights (Domestic travel).
JetPrivilege HDFC Bank Diners Club Credit Card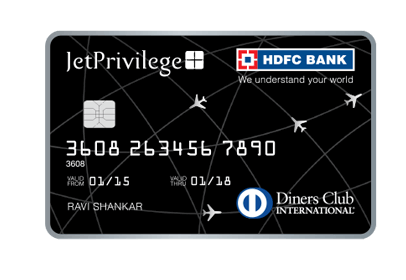 This is a premium card for travelers who prefer to fly with Jet Airways.
With the welcome benefits of upto 30,000 Bonus JPMiles and 15 JetPrivilege Tier points within first 90 days, you can earns 8 JPMiles for every INR 150 spent.
It rewards with 3X JPMiles for spends on www.Jetairways.com
Along with the above benefits, you also get unlimited Airport Lounge access globally and access to premium golf training clubs.
Axis Vistara Infinite Credit Card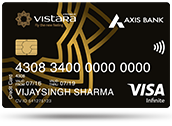 It welcomes with a complimentary business class ticket as a welcome gift on joining.
Exclusive privileges of Club Vistara Gold membership like priority check-in, priority boarding,  additional baggage allowance as complimentary.
Earns 6 CV points for every INR 200 spent on this card and these points can be redeemed for upgrades and award flights.
Air India SBI Signature Credit Card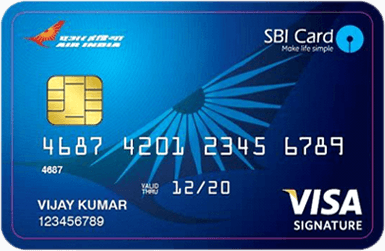 This co-branded card gets 4 Reward points for every Rs.100 spent. 1 Reward point is equal to 1 Air India Air mile
As a welcome gift on payment of your joining fee, you get 20,000 Reward points.
You can also get upto 1,00,000 bonus Reward points annually.
It comes with an annual fee of INR 4,999/- with renewal fee of INR 4,999/- (per annum)
Choosing the right co-branded card
Enroll to the frequent flyer program after you select preferred airlines based on the route accessibility.
Preferred Airlines like Air India, Jet Airways and Partners, Vistara. Few Airlines are well covered in North India like Vistara but limited options in South India.
Make sure it matches to your requirements and place of residence.
Choosing the right cobranded card is joining the frequent flyer program which can offer maximum benefit in redemption options.
For instance, If you are a frequent flyer member of Club Vistara, you have multiple options to fly from Delhi with your CV points earned.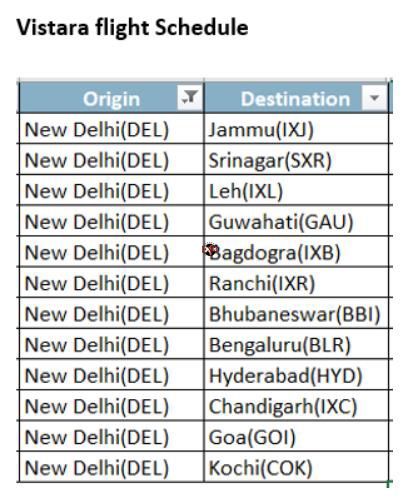 But if you choose to fly from Hyderabad, you are left with only 2 destinations in India and your choice will be limited with the accumulated CV points.
Similarly with Air India Flying Returns program, if you have enough FR points and if your departure is Hyderabad, you will have multiple options to redeem for a award flights.
Award Wallet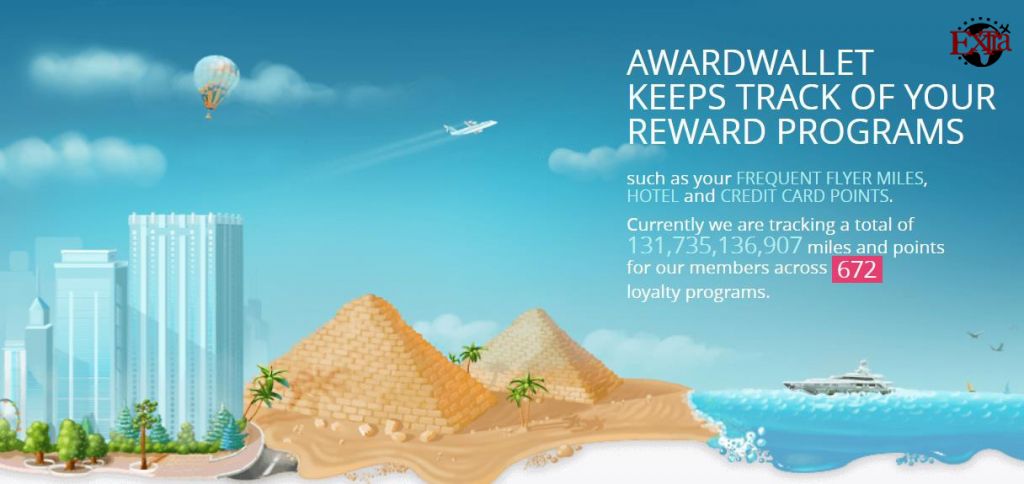 Managing your rewards so easy with Award Wallet tracking system.
Award Wallet manages reward balances and travel itineraries with more than 670 loyalty programs supported. It tracks frequent flyer miles, hotel and credit card points all at one place.
It notifies when your miles/points are getting expired and when balance changes.
It's a free and user-friendly website/app which never let any of your points/miles get expire!
It has various categories like credit cards, airlines, hotels, shopping, dining, rentals etc. After you add your user ID and passwords in the website, it will retrieve the data and show the current balance of
points/miles.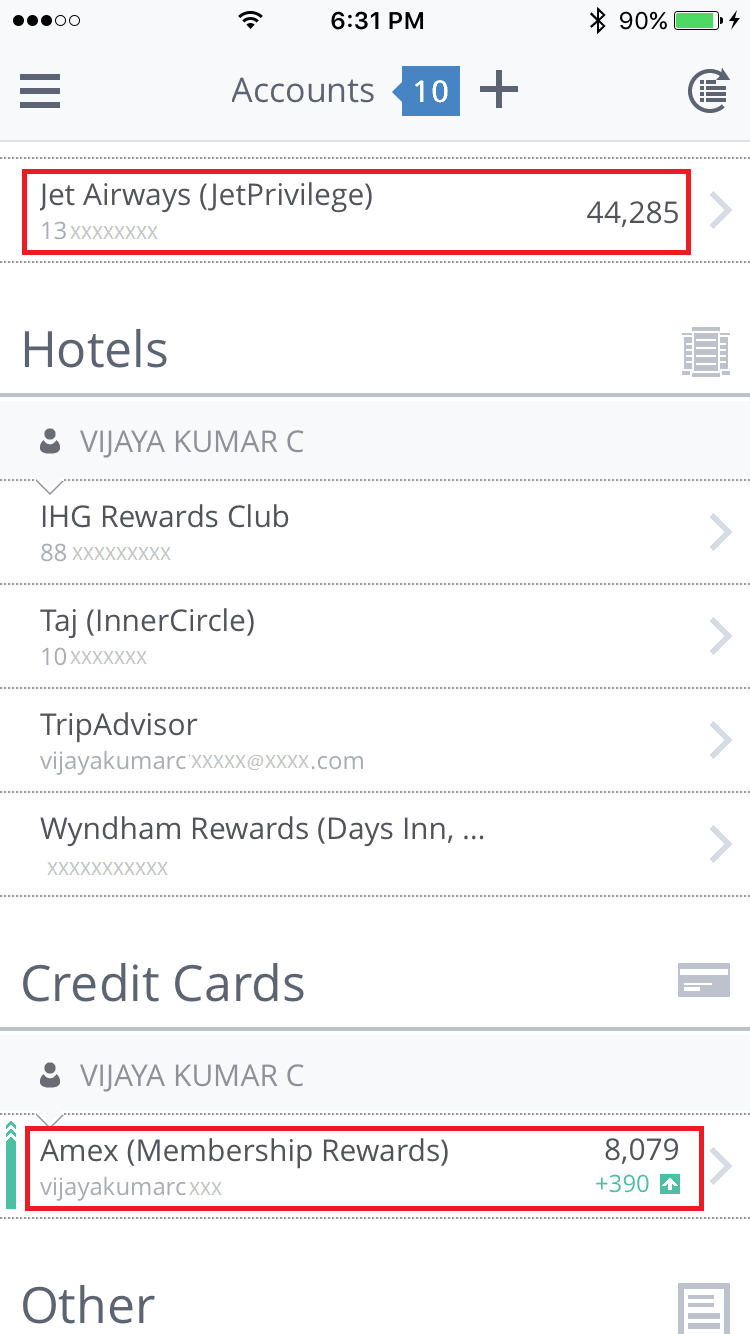 Few tips on using Travel Credit Card
Have self-control in your spending. Don't overdue in the beginning.
Keep track of the points/miles earned and their expiry.
Don't miss the due dates for payments of your bills and annual fees.
Use credit cards that get you to your goal, maximize your value.
Always make sure you are using the rewards that get you to where you want to go
Don't miss out the credit card offers in mails. Open your statements to check if there are any incredible offers which usually ignore.
Start slowly and build up with each card
For the credit cards with annual fee, after your first year is up, recheck whether the miles and privileges offered in the first year are worth more than the fee. This helps in deciding
whether to continue with same card or switch to another.
Make sure to complete the minimum spending requirements on time as it's a prerequisite to avail benefits like sign up bonus offered by the credit cards.
(Minimum spend requirements is usually assumed as from the time its activated. But it starts from the time the card gets approved)
Your travel diaries with your favorite airlines starts by choosing the right travel credit card. They are a big key to quickly rack up your miles.
Earning Miles
Create opportunities. Look for miles everywhere.
If played smart, almost every activity can earn you miles!
No matter what you're doing whether its buying your favorite clothes online, planning for a dinner date, buying a gift card for your loved ones, renting a car, online groceries purchases, paying your
insurance, or filling your fuel, do any kind of activity of your choice and there's probably an offer or bonus somewhere with some provider to collect miles!
These are some easy ways you can earn points and miles without spending high (we will discuss more about earning JPMiles).
JetPrivilege scout
Payback deal assistant
Gift cards – Woohoo/NAFA
Prepaid cards
Newsletter
Purchasing miles
Bonus offers
Dining programs
Trip Advisor
Airlines shopping websites
JetPrivilege
HDFC SmartBuy
JetPrivilege Scout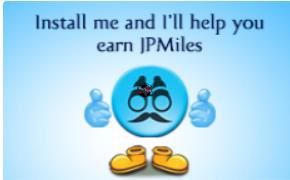 Helps you Fly Free Faster
JetPrivilege Scout is a Google Chrome extension to spot every opportunity to earn JPMiles online!
Never miss an opportunity to earn your JPMiles with online and offline partners.
Shopping online and not sure who are the partner websites? Jet Privilege Scout will guide you and will not let any miles go unearned.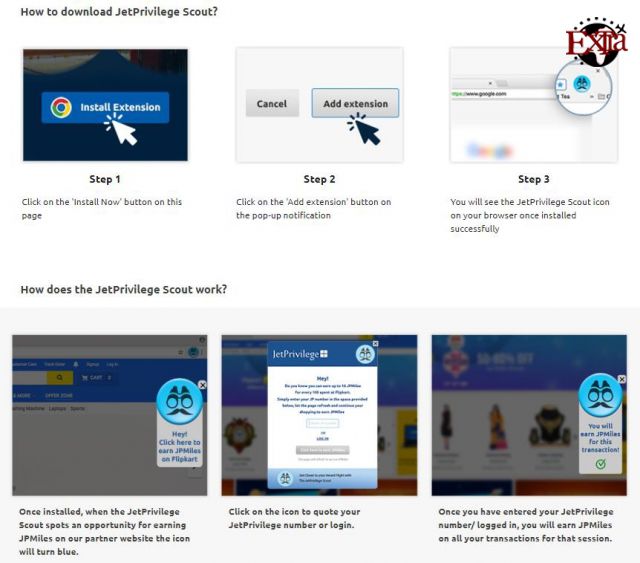 It helps to spot exclusive offers available to JetPrivilege Members.
Tracking your activity is made easy as you need not login every time.
Here are the simple steps to download your JetPrivilege Scout and to understand how it works.
PAYBACK Deals Assistant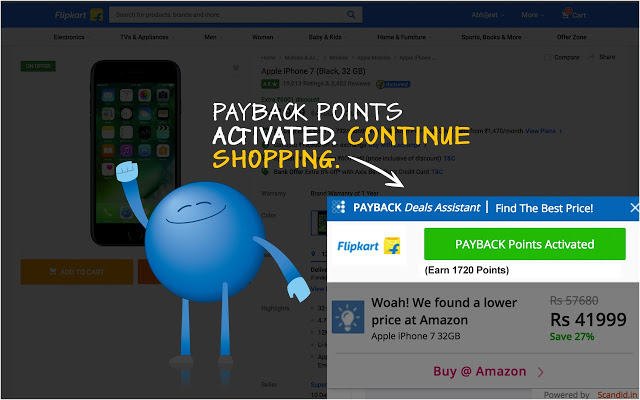 Every transaction has a point!
PAYBACK is India's biggest multi brand loyalty program where you can earn payback points and redeem them at various in-store and online partners.
These payback points can also be converted to JPMiles (TIP: convert them during promotional offers with bonus upto 30%).
PAYBACK deals assistant is a chrome extension where it will compare prices on several online portals and gives you option to buy at a lowest price!
You can also earn points from the transactions made from any of those 70+ partner websites.
Now no more regrets of overpaying for a product!
Be a smart buyer by downloading PAYBACK deal assistant which helps like a personal shopper, suggests with the best prices available.
PAYBACK Deals Assistant helps to save MORE every time you shop. It compares across various websites in seconds and shows you the best price available.
It has a wide presence of more than 70+ leading websites like Flipkart, Myntra, Jabong Amazon and also for travel websites like MakeMyTrip, cleartrip etc.,
By clicking on Activate points button, you earn assured PAYBACK Points for every transaction. I have collected more points on each transaction and converted to JPMiles during 30% Bonus offer period.
Every 1000 PAYBACK Points is equivalent to 250 JPMIles of redemption value.
Shop smart and save more. Don't miss any chance of earning rewards/points.
Gift Cards
If you are wondering how gift cards can earn you miles/points, here it is!
You can earn double the points by using gift card options.
Don't purchase your favorite products directly from the online shopping websites. Look for the gift cards with the online merchants or discounted gift cards at GiftcardsIndia, Woohoo or NAFA.
These are the websites where you can get gift cards at awesome deals and discounts which ranges from 5% to 40 % on selected brands and shopping websites.

Though these are some extra steps to get the products you wish for, it can add some extra miles to your transaction.
Step 1: From online shopping portals, buy e-gift cards with the company which are partnered websites.
Step 2: Use these gift cards through the shopping portal second time with merchant you wish to buy.
For instance, if you wish you buy a gift card of Myntra from Woohoo which are partner websites with JetPrivilege, this transaction can earn you miles in 2 ways: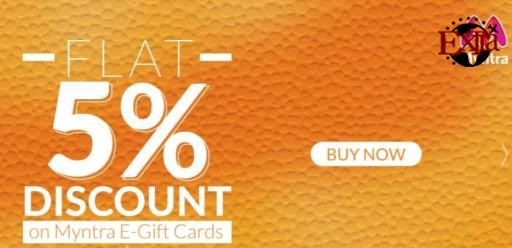 Miles from the credit card transaction (Purchase through JetPrivilege Cobranded credit card to maximize earning of JPMiles)
Miles from the purchase through Woohoo website (5 JPMiles for every 100/- Spent)
5% Discount on Myntra Gift card
Miles from JetPrivilege portal for shopping through it with Myntra (4 JPMiles for every 100/- Spent)
So if you wish to spend ₹ 5000/- for your transaction, with this few additional steps, you could earn more than 700 JPMiles along with ₹ 250/- cash discount.

Isn't it more rewarding?
Never pay full price for the things that can be bought at great discounts and earn miles!
Pre-Paid Cards
Buying a Prepaid Visa or Master cards has become rewarding option in terms of credit card minimum spend requirements.
These pre-paid cards can also be used as an alternative to swipe if your co-branded cards like American Express/Diners Club is not accepted for in stores or online purchases.
This is an indirect way to pile up your miles for each rupee spent! You can check at giftcardsindia for more prepaid cards.
Though there are slight additional charges in purchasing a bank pre-paid card, this can be trade off with the miles earned.
There is no limit in number for buying these prepaid cards.
Example: If you wish to purchase a bank Pre paid card from giftcardindia with HDFC Bank worth of ₹ 10,000, the additional charges would be ₹ 250 and ₹99 for Shipping.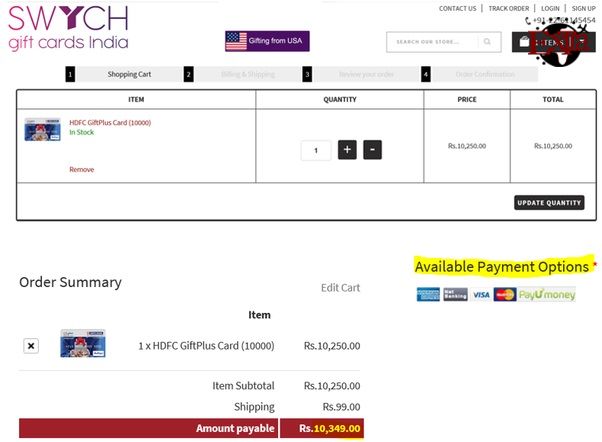 Signing up for Newsletters
To stay updated with the ongoing offers and great deals, signing up for newsletters is so important.
I had sign up for most of the airline and credit card newsletters and emails to know the special offers and discounts.
Most of the discount deals for credit cards are often sent by emails.
I had many times received discount coupons and offers on flights and online shopping websites which saved a lot in spending.
Once I had received a great offer with American express card where on spending of Rs 20,000 or more at any participating Hilton property, I get a statement credit of Rs 5000 which is almost a 25% discount.
Purchasing points
If you are short of JPMiles for your award flight, you can buy miles at a rate of INR 1.25 + GST which is INR 1.475 per JPMiles.
It is worth buying miles when they come up with some bonus offers like below.
This is the last option in my list of purchasing the JPMiles unless there is a great deal with bonus  JPMiles which can be bought at cheap price or a need for points for booking any flight for immediate travel.
Bonus Offers
The Bonus offers of JetPrivilege are so irresistible! Though most of the offers are limited or expires after a period, it's worth grabbing by staying up to date.
They have offers like 5,000 Bonus JPMiles on completing any 5 activities like dine, fly, shop, redeem etc., from their JetPrivilege website.
Some of the offers are available only till  the member completes their first transactions with each activity.
You can maximize your miles with offers like Bonus JPMiles on taking a Jet Airways flight during specified period, or Bonus miles on selected class like business class or flying during specified times etc.,
Many times, the best deals/offers are found in the emails.
Make sure you follow and be upto date with the communications received from the online portals/airline websites.
Using Jet Airways American Express supplementary credit card also can earn bonus miles of 750 JPMiles (2 transactions per month using this card before specified date as per the terms and conditions)
On converting Loyalty Points to JPMiles, sometimes the offer is 50% Bonus based on the points/miles converted.
These are the offers to keep track on. The conversion partner can be a bank, hotel or a loyalty programme.
I have converted my PAYBACK points, HDFC Bank Diners club reward points and with other conversion partners into JPMiles with Bonus offer and earned maximum benefit in conversion.
Dining Programs
Now you can reach your award flight faster by dining at your favorite restaurant!
With JetPrivilege Dining Partners, you are rewarded with JPMiles with you dine. We have reasons to celebrate with additional JPMiles earned through the partners along with credit card offers and miles.
If you are booking through EazyDine, you can earn up to 600 JPMiles on your first 3 bookings.
With Dineout, Earn upto 460 JPMiles along with additional discounts.
While reserving a table , you need to mention your JetPrivilege frequent flyer number to get the JPMiles added to your account when you dine with participating restaurants.
Another advantage is there is usually no minimum spend requirement to earn these JPMiles.
If you are not sure how to reserve a table to earn JPMiles, we will show you the simple steps:
Make sure to maximize your miles with these simple travel hacks!
Review in Tripadvisor
Tripadvisor being a partner with JetPrivilege, brings special offer of earning miles upto 1,525 per month on writing reviews! Every review published will add JPMiles.
But to collect the JPMiles, members of JetPrivilege must register for the promotion. Miles earned can be reviewed next to the JPMiles icon on the review page.
If you wish to review on hotels, you can earn JPMiles for upto maximum of 4 reviews.
No such restrictions on reviews for attractions and restaurants with the overall limit of JPMiles per month is 1,525.
The earned JPMiles will be credited in the subsequent month after the review is submitted. Show how expressive you are and bag your JPMiles quickly.
Online Shopping Portal
Shopping is an amazing way to earn extra miles and maximize your rewards quickly!
Limit your cash purchases and put your everyday spends with credit cards and shopping portals to get great benefits.
By using airline shopping portals like shop. JetPrivilege, you can earn miles in 2 ways. One from using the right cobranded credit card and other is making the transaction through the shopping portal of JetPrivilege.
In India, we have Jet Privilege by Jet Airways in airline shopping portal and SmartBuy by HDFC in Bank shopping portals which are well known. These portals multiply the points earned for each rupee spent.
Use these online portals for any kind of activity like shop, stay or dine!
Another advantage with JetPrivilege shopping portal is you don't have to use any particular bank/co-branded credit card. Any approved payment mode can be used to earn miles by shopping through their portal.
Along with online Partners, Jet privilege also has other retail partners where you can earn JPMiles by purchasing from their stores.
Stay updated with the partner stores and never miss a chance to earn miles. Their online partners like Flipkart, Amazon, Myntra, Jabong etc., can earn you from 4 JPMiles upto 20 JPMiles for every INR
100/- spent based on the partner site you shop.
Here is a simple travel hack to multiply this points further by utilizing the credit card offers with airline shopping portals.
This can get you an annual vacation with award flights.
For Example: Big Basket is a partner with Jet privilege. Any purchases made through the JetPrivilege portal will earn you 8 JPMiles per every 100/- spent on Big Basket.
If you choose to use your HDFC Diners club card, which can earn 10X reward points , you can multiply your reward points to 40 (4 points for every Rs 150/- spent with 10X).
HDFC Diners club points can be converted to JPMiles.
So if you spend ₹5000 monthly on Big Basket through shopping portal, by tweaking with double rewards from credit card and JetPrivilege both, you can earn 1733 JPMiles and annually 20,800 JPMiles.
It can buy 2 return award flights (domestic) by redeeming the JPMiles earned with groceries. Isn't is rewarding?
Redeeming Miles
So now, you know how to use the right credit cards or how to accumulate and earn the extra miles with the bonus offers, loyalty programs and shopping portals.
What next?
Curious to learn how to redeem these miles?
The right use of your miles or points on award flights is important because the first redemption will always encourage you to be more ambitious.
Take maximum benefit with each mile spent.
Cost benefit analysis is required to understand which route or which airlines or sometimes which class can get you back the maximum benefit with minimum spend.
Sometimes the expensive flights or expensive class like first class or business class gives good value for the miles you burn rather than on economy.
Here is I did simple math to show if you are short of miles, is it worth redeeming for award flights by purchasing the miles ? If yes, is it worth for economy or premium class?
Purchasing each JPMiles cost Rs 1.25 + GST which is Rs 1.475 per JPMiles.
With the assumption of 40% Bonus JPMiles offer (value would come down to Rs 1.08/each JPMiles including GST)
We have 2 scenarios of:
1. Purchasing a revenue ticket,
2. Award redemption with above 40% bonus offer.

A: Mumbai to London round trip
B: Average price of revenue ticket for each class (based on 2 months avg.)
C: JPMiles needed for award ticket (Miles redemption)
F: Price of return ticket with offer using JPMiles i.e. Total Miles * Price of 1 JPMiles (Rs 1.08)
G: Difference of amount between Revenue ticket & Award ticket with offer.
(Tax is not considered while above calculation is made.)
It's clear that redemption on first class is worth and not for economy or business class even when you purchase JPMiles with 40% bonus offer.
UPDATE: Is it worth to buy JPMiles at even with 100% bonus?
If we are talking about domestic redemption, few routes are not worth redeeming the miles on the economy ticket because the revenue ticket price is cheaper than redeeming the miles.
Like for instance, who would redeem 10,000 JPMiles and ~ Rs 1600 in taxes for a return economy flight from Bengaluru to Hyderabad, when the same ticket can be bought for Rs. 2000 – 2500 in cash
without redeeming any miles?
These redemption's are worth only during peak periods or last-minute bookings.
If we are talking about redemption of miles from Delhi to Leh during peak season which could costs us around Rs 10,000 – 25,000, redeeming with miles is good option.
I had redeemed with my 10,000 JPMiles plus INR 1500 Taxes for a Delhi to Leh round trip in peak  season.
Do your calculation wisely before you spend your miles.
We have more than 20 airline partners with JetPrivilege to offer wide options for award redemption's.
For a decent redemption of miles, you should have a substantial credit card spend.
To travel in first class which is worth INR 5 Lakhs, I had redeemed more than 1,05,000 JPMiles.
Diversify your points or miles and don't put all the eggs in one basket. Because airlines may devalue their points worth and tends to change the program.
Use the frequent flyer programs available in India and keep accumulating the miles for the best use.
CV points earned with Club Vistara can be redeemed only for Award flights, Upgrade awards or for redeeming with partners.
But the JPMiles of JetPrivilege can be redeemed not only for Award flights or with partner award flights, but also on reward store for shopping ,rentals etc.
Though you can convert the JPMiles for non-travel redemptions, it is not a good option with the value we earn with conversion.
With travel hacking, if you know how to play the game, you can earn luxurious trips for free!